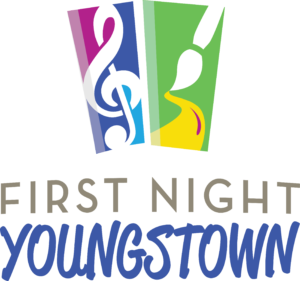 First Night Youngstown 2018
December 31   •    4:00pm – 12:00am    •    Downtown Youngstown
Diamond Sponsor - $7,500
Logo recognition on promotional material for the event as a major underwriter, including: television commercials, radio promotions, save the dates, online invitations, event t-shirts, a bus stop named in company honor, all social media and website promotions and at the event, plus negotiable promotion.
Company banner at sponsored event choice
Ability to set up table and marketing materials at headquarters.
15 admission buttons
1 Full Page ad in program book
Gold Sponsor - $5,000
Logo recognition on promotional material for the event as a major underwriter, including: save the dates, online invitations, event t-shirts, a bus stop named in company honor, all social media and website promotions and at the event, plus negotiable promotion.
Company banner at sponsored event of choice
Ability to set up table and marketing materials in 20 Federal Plaza
10 admission buttons
1 Full Page ad in program book
Silver Sponsor - $2,500
Logo recognition on promotional material for the event, including: save the dates, online invitations, a bus stop in company honor, all social media and website promotions and at the event, plus negotiable promotion.
Company banner at sponsored event of choice
Ability to set up table and marketing materials at headquarters
8 admission buttons
1 Full Page ad in program book
Bronze Sponsor- $1,000
Logo recognition on social media and website promotions and at the event, plus negotiable promotion.
Company banner at sponsored event of choice
Ability to set up table and marketing materials at headquarters
8 admission buttons
Half Page ad in program book
Friends of First Night – donation or in-kind sponsorship
Logo recognition on social media, website promotions and at the event.
4 admission buttons
Ability to set up table and marketing materials at headquarters
Quarter Page ad in program book
DONATE NOW!
Mail a check OR donate via PayPal: infofirstnightyoungstown@gmail.com
TO MAIL VIA CHECK, please print the section below, fill out and mail to the address enclosed. Thank you for your support!
---
I want to be a supporter of the arts in Youngstown!
Please list me as a sponsor according to the information listed below.
Name of business or organization                                                                                                      
Contact name                                                                                                                                            
Address                                                                                                                                                       
Phone                                         Fax                                         Email                                                       
Sponsorship Category                                                                           Amount                                
Check enclosed                   
Please accept my pledge and send me an invoice for payment due immediately                 
Make check payable to: First Night Youngstown, Inc.
Mail to: First Night Youngstown, Inc.
25 E. Boardman St., Suite 405
Youngstown, OH 44503
THANK YOU!!!